Tegueste - Tenerife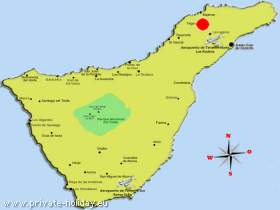 At the edge of the Anaga Mountains not far away from the capital city Santa Cruz (about 20 minutes with the rental car) at the north coast of Tenerife Tegueste is located.
The biggest and historical most important cities like La Orotava (30 minutes) or San Cristóbal de la Laguna (15 minutes) are located in a small distance from this green and traditional little town.
During the last years Tegueste developed to a popular place to live for locals. The main place around the Plaza de San Marcos is therefor well attended at all feasts. Packaging tourism however is not found here. Therefore individual tourists like Tegueste a lot. Many prefer the very good sartng position for an adventurous vacation. Here holiday guests find besides a wide network of hiking routes (like in the Esperanza forest) also a lush landscaped scenery with a great laurel forest. Mountainbiking or jogging is also very popular. Who only knows the dry south of Tenerife believes to be in another world in Tegueste.
You can especially live cosily here in a beautiful and cultivated finca, holiday apartment or house with a big terrace.
The southern airport can be reached in one hour with the rental car.
holiday flats and holiday houses in Tegueste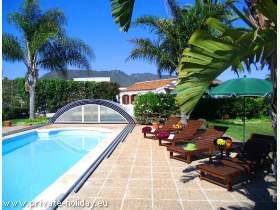 2
1
1
yes
Property number: F6056
from 75,00€ / night
Available from 3 nights
Per week from 554,00€
inclusive final cleaning and additional costs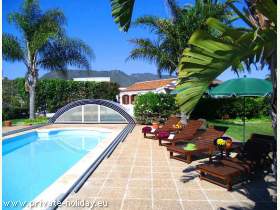 2
1
1
yes
Property number: F6057
from 75,00€ / night
Available from 3 nights
Per week from 554,00€
inclusive final cleaning and additional costs
4
2
1
yes
Property number: F6054
from 110,00€ / night
Available from 3 nights
Per week from 799,00€
inclusive final cleaning and additional costs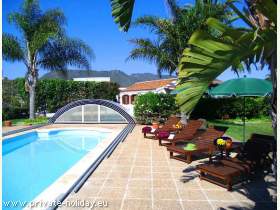 4
2
1
yes
Property number: F6055
from 110,00€ / night
Available from 3 nights
Per week from 799,00€
inclusive final cleaning and additional costs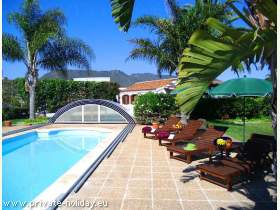 4
2
1
yes
Property number: F6058
from 110,00€ / night
Available from 3 nights
Per week from 799,00€
inclusive final cleaning and additional costs
8
4
3
yes
Property number: F6610
from 110,00€ / night
Available from 5 nights
Per week from 799,00€
inclusive final cleaning and additional costs