Los Gigantes - Tenerife
3 Properties found
Distance
On the southwestern coast of Tenerife Los Gigantes is located, in Tenerife's most surely sunny region. An optical highlight of the region are the steep cliffs, located next to the village, which emerge 500 metres from the sea - the Los Acantilados de los Gigantes (second biggest steep coast of Europe).
Los Gigantes with its 3000 inhabitants is a part of the beautiful community Santiago de Teide. The popular destination for a day trip is located at the end of Tenerife's coast road, which drops vertically into the Atlantic Ocean and offers a good tourism infrastructure. There are several bars, coffe shops and restaurants.
With it's little, narrow alleys the bathing resort seems to lean against the rock. Los Gigantes owns a big sports harbour with yachts, from where you have a stunning view on the village. Even more fascinating is the view from a boat, for example from the former crab cutter "Katrin". Furthermore the yachtharbour offers a range of restaurants and bars with a view on the sea as well as delicious food.
After a short walk from the harbour you get to one more highlight: The dark sandy beach Playa de los Gigantes underneath the multicoloured clifs. The gently shelving beach is indeed not very long, but unique because of it's proximity. Here you can also find small, local restaurants, which serve typical Canarian specialities and refresh yourself with a cool drink.
Above the steep coast you can enjoy a magnificient view on the most westernly point of the island, the "Punta de Teno", on a sunny day from the beautiful viewpoint Archipenque. In addition to that you have a good view from there on the neighbouring islands La Gomera and La Palma.
Tip: A catamaran tour starts from Los Gigantes to watch whales and dolphins. On this tour you mainly see pilot whales and bottlenose dolphin, just two of the 25 occuring types of Tenerife.
Holiday flats and holiday houses in Los Gigantes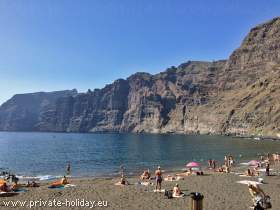 4
1
1
yes
Property number: F6758
from span class="preis-teaser">60,00€ / night
Available from 2 nights
Per week from 499,00€
inclusive final cleaning and additional costs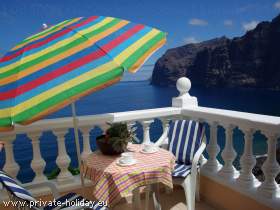 2
1
1
no
Property number: F8069
from span class="preis-teaser">65,00€ / night
available from 1 nights
Per week from 484,00€
inclusive final cleaning and additional costs
6
2
2
yes
Property number: F6161
from span class="preis-teaser">75,00€ / night
Available from 7 nights
Per week from 644,00€
inclusive final cleaning and additional costs