Las Cañadas del Teide in the north of Tenerife - The best holiday ever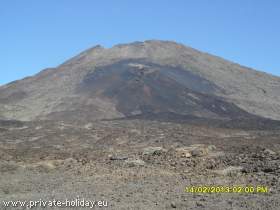 Distance
The Canary Island Tenerife is not only known for its wonderfully cultivated promenade and walking routes along touristy main spots like Los Cristianos or Puerto de la Cruz but also for an outstanding volcanic mountain Pico del Teide.
The Pico del Teide consists of a roughly 18 900 hectare big nature reserve. Only a part of it is the Caldera (formed like a tank crater) and therefore the Las Cañadas del Teide - with a 17 kilometres long median a real natural phenomena.
Who wants to use the vacation mainly for hiking, should definetly explore the Las Cañadas del Teide by foot. A very exiting and fascinating endemic flora and fauna will extend in front of you.
As a relaxing starting point you should best use the beautiful Orotava valley. Not the only advantage of a holiday rental in La Orotava would be the proximity to the Teide (about 1 hour drive) but also that you can live at this place in the middle of a banana plantation. Furthermore it relieves the idividual tourist massively, that there are various shops, restaurants and bars to reach by foot. Also bathing spots like Playa Jardin or the world famous animal park Loro Parque would be reachable from La Orotava in quater of an hour with the rental car. Furthermore there is public bus transfer.