Güimar in the east of Tenerife - Find the best holiday homes here
2 Properties found
Distance
In the heart of a fruitfull valley the town Güímar is located, one of the probably historical most discussed places on Tenerife.
Discussed because the pyramides of Güímar always give reasons for speculations. from the nowegian archaeologist Thor Heyerdal discovered in the 1990's the original purpose as well as the builder is still unexplained up to now. Different scientific thesis still exist side by side. If the pyramides of Güímar were built for astronomical reasons - for the winter or summer solstice - by the Guanches (natives of Tenerife) or in the 19th century for an unknown reason is very disputed. Fact is only that there is evidence for both believes.
One thing is definetly certain. Who wants to visualize the pyramides of Güímar in the vacation has nowadays a chance to do so. In Güímar namely the Parque Etnogfráfico "pirámides de Güimar" developed on an initiative of prof. Thor Heyerdahl. There you can also reproduce his scientific work.
Today in Güímar there is a particular focus on agriculture - a very popular, fruity wine is grown there (Brumas). Furthermore there are avocados, bananas, guaves, chirimoyas, pines as well as tomatoes.
There are also some very nice holiday houses and fincas with private pools and terraces.
To the southern airport you need about 30 minutes with the rental car.
Holiday flats and holiday houses in Güimar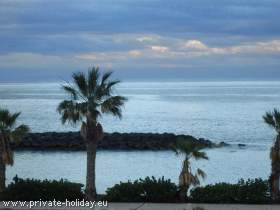 4
2
1
yes
Property number: F5501
from span class="preis-teaser">46,00€ / night
Available from 7 nights
Per week from 351,00€
inclusive final cleaning and additional costs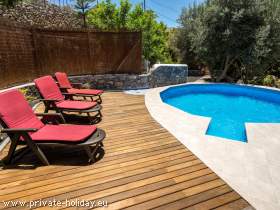 5
1
1
yes
Property number: F6929
from span class="preis-teaser">95,00€ / night
Available from 7 nights
Per week from 804,00€
inclusive final cleaning and additional costs