Tacoronte in the north of Tenerife - Holiday Homes in the great nature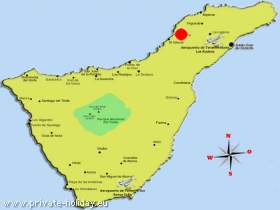 3 Properties found
Distance
Tacoronte is not only the home of the best wines of Tenerife but also of delicious kinds of fruits.
At every time of the year grape vines and various agricutural used plantations with view on the Pico del Teide (Spains highest mountain) form the wonderful and fruitful Canary ambience of the small town with its 25.000 inhabitants. The historical district of Tacoronte all around the church Santa Catalina is listed. The other surrounding residences are builded in the typical Canary style.
Only one more highlight in Tacoronte is the farmer's market, which happens once a week (mostly sundays from 8am to 2pm).
Tip: If you want to visit the north of the island, you should plan to go to the farmer's market in Tacronte to buy delicious catering for the following days of vacation. Weekdays you also daily get freshly delivered food in the market hall.
Taste the exclusive Canary wines in a local bar or restaurant. Even wine award ceremonies take place here regularly.
Tacoronte extends from the holiday place El Pris, which is located directly at the sea, up to 1200 metres height in the mountains. There are also interesting holiday rentals in the surroundings of Tacoronte, which can be rented. The yearlong green wine cultivation areas are always in a small distance. Do not miss the almond blossom in spring - it is a very wonderful natural phenomena.
Who wants to improve his golfing skills is also right in Tacoronte. The Real Club de Golf de Tenerife (an 18 - hole complex) is reachable in less than 10 minutes with the rental car.
The southern airport is reachable in good one hour of driving.
Holiday flats and holiday houses in Tacoronte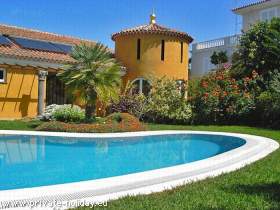 2
1
1
yes
Property number: F3640
from span class="preis-teaser">68,00€ / night
Available from 7 nights
Per week from 573,00€
inclusive final cleaning and additional costs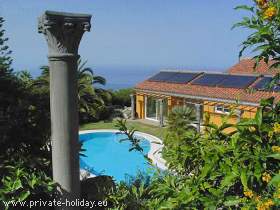 2
1
1
yes
Property number: F3641
from span class="preis-teaser">68,00€ / night
Available from 7 nights
Per week from 573,00€
inclusive final cleaning and additional costs
10
5
5
yes
Property number: F6041
from span class="preis-teaser">200,00€ / night
Available from 7 nights
Per week from 1.629,00€
inclusive final cleaning and additional costs