Tabaiba in the east of Tenerife - The best holiday houses in the area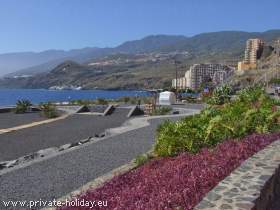 Distance
A few kilometres away from Santa Cruz, the town Tabaiba at the south - east coast of Tenerife is located.
The name of the quiet and cosy place comes from a cardinal red blooming plant, which is only to find on Tenerife. If you watch carefully, the plant of the spurge family, which can grow up to two metres, is to find all around the little town.
The place is seperated into three "levels" due to its steep coast : Tabaiba Alta (upper city), Tabaiba Medien and Tabaiba Baja (lower city).
Tabaiba Baja is the lower part of the town and located directly at the Atlantic Ocean. The houses extend up the hillside. In between you will find restaurants, cafes and a supermarket. Also a miniature golf course is available here.
The black sandy beach of the town is reachable through steps and the sea is connected to the seawater swimming pool directly at the small promenade of Tabaiba through a canal.
For individual tourists small studios or other self catering accomodations are suitable to have a quiet and pleasant holiday stay.
Sports divers especially get their pleasure, because about 200 metres away from the swimming pool there is the wreck of an old fishing ship named "Pejin" on the ground of the sea. 30 metres under the sea level the wreck offers an exciting adventure at which divers can observe trumpet fish, dragon heads and other interesting fish.
To the southern airport it takes about half an hour with the car from Tabaiba.