San Miguel de Abona in the south of Tenerife - Very good holiday homes
3 Properties found
Distance
In the middle of two Barancos in the sunny south of Tenerife San Miguel de Abona is located - directly at the mountainside of the Montaña del Pozo (on the hiking routes here one can explore the area). An especially popular hiking trail for example leads from San Miguel de Abona to Aldea Blanca.
The closer region all around San Miguel de Abona is used for agriculture. Therefor it is very well liked by individual tourists. Chick holiday houses and holiday apartments are available here. The resulting sustainable tourism makes it possible to find yearlong silence and rest at this sunny little place.
A popular holiday destination nearby is the "Castillo San Miguel". In this replication of a medieval fort a horse riding show is offered three times a week.
The southern airport is reachable in about ten minutes with the rental car. Anyone, who likes it more enlivened, should visit the famous southern torism centres like Los Cristianos or Las Américas (ca. 15 minutes with the car).
Holiday flats and holiday houses in San Miguel de Abona
2
1
1
yes
Property number: F5683
from span class="preis-teaser">60,00€ / night
Available from 5 nights
Per week from 449,00€
inclusive final cleaning and additional costs
3
2
1
yes
Property number: F8061
from span class="preis-teaser">65,00€ / night
Available from 5 nights
Per week from 534,00€
inclusive final cleaning and additional costs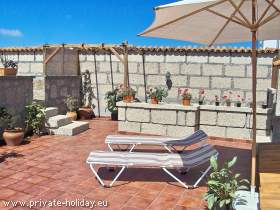 4
2
1
yes
Property number: F5684
from span class="preis-teaser">70,00€ / night
Available from 5 nights
Per week from 519,00€
inclusive final cleaning and additional costs