Tamaimo - Tenerife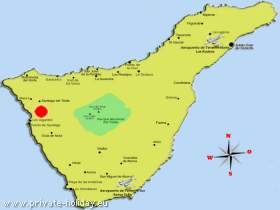 Tamaimo is located at a hillside above Los Gigantes at the sun - shure south west coast of Tenerife. The region is ideal for tourists, who want to live away from the tourism areas. Nevertheless from there you are in a few minutes in the quiet tourism places Los Gigantes and Puerto Santiago. For whom this is still to quiet , drives a few kilometres further in the main tourism places Los Cristianos and Playa las Américas.
In the nice, small town Tamaimo there is still practised a lot of agriculture. Besides regional fruits, like mangoes, papayas and bananas also potatoes and vine is cultivated. For peace seeking vacationers the place is ideal, party tourists are wrong here.
Families and hiking tourists can be accomodated in Tamaimo in old Canary holiday houses and country hotels with charme and have a real alternative to the classic hotel vacation like this.
Also the creature comforts is ensured thanks to some restaurants in the town.
A nice variety in the vacation is offered by the beach of Puerto de Santiago, which is only 10 driving minutes away and has everything to offer for a bathing day.
holiday flats and holiday houses in Tamaimo
11
4
2
yes
Property number: F6208
from 270,00€ / night
Available from 7 nights
Per week from 2.189,00€
inclusive final cleaning and additional costs