San Andrés in the east of Tenerife - Holiday Homes on the best beach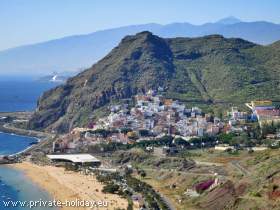 Distance
San Andrés is a Canary village, which was builded on a mountainside. The town especially got interesting because of the beach Playa Las Teresitas, which for many tourists is the most beautiful beach of Tenerife. However there are different opinions amongst the tourists and the inhabitants.
The beach was cultivated in the 70s with sand from the neighbouring Sahara and planted with palm trees, which at some places build a natural sun protection. In front of the beach wave breakers are installed, so that it is allowed to swim here in almost every weather condition. There are enough parking spaces, several snack stalls, showers and changing rooms. From the Playa Las Teresitas you have a very nice view on the cute town, which with its colorful houses seems to be grown together with the mountain.
Originally the town should have been developed as a tourism centre, because of the famous beach. Due to corruption allegations the development was then stopped. Today only a few ruins, for example a shopping mall, remind of the plans.
San Andrés is prepared for the tourism because of the beach, but is still very original. So there are no hotels or bigger holiday houses, but only a few small apartments for rent and without Spanish knowledge it is hard to get a holiday rental or catering.
At the foot of the town some restaurants and cafes have settled. Who wants to eat a bit more cheap and better, should not go to the restaurants, which are located at the beginning of the town, but walk a little further, where some really good domestic restaurants are.