Playa de San Marcos in the north of Tenerife - Holiday homes at the beach
1 Properties found
Distance
If you want to try another bathing beach in your holidays in Tenerife and for example live in Puerto de la Cruz (ca. 25 kilometres away), then you should visit the Playa de San Marcos in Icod de los Vinos once.
Besides the "Drago Milenario" (a hundred-year-old dragon tree) the Playa de San Marcos is a located in the north relaxing highlight. In this small bay with a black volcanic beach especially in the summer you will meet mostly inhabitants. Then it can get really overcrowded at the Playa. Who wants it a bit more quiet should therefore plan a bathing visit on weekdays. The beach of San Marcos offers besides sun loungers and sun umbrellas everything what you need on a bathing day. Some very great and tasteful bars and restaurants with local and interrnational kitchen additionally care for your creature comforts.
Who wants to live just near the Playa de San Marcos, should take a look at the very nice holiday rentals all around Icod de los Vinos. In Icod itself you do not need a rental car. The most necessary things for an individual vacation can be found in the various supermarkets. Who however wants to do an island tour in the vacation, should rent a rental car.
The southern airport is about 110 kilometres away from Icod de los Vinos.
Holiday flats and holiday houses in Playa de San Marcos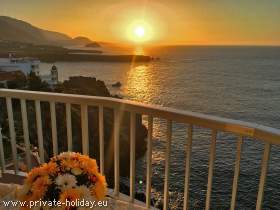 3
2
1
yes
Property number: F5481
from span class="preis-teaser">59,00€ / night
Available from 4 nights
Per week from 481,00€
inclusive final cleaning and additional costs