Los Realejos in the north of Tenerife - Holiday homes in a quiet place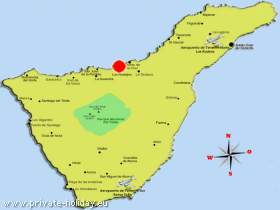 Distance
Full of peace and silence, the town Los Realejos is located only six kilometres away from the beautiful northern tourism destination Puerto de la Cruz.
The low touristy prominence of this Canary town makes it possible to experience a holiday full of the Canary love of life. No matter if christmas, carnival or the festivities around "La Invención de la Cruz". The roughly 37 500 (most of them locals) inhabitants simply love to celebrate their feastivities big and colorful.
If you would like to spend a vacation between locals and in a city flair and have the mass tourism in a comfortable distance, then you should think about this 400 metres above the sealevel located town. In the area of Los Realejos a great individual holiday is possible - various kinds of cultivated accomodation are available here all year long. Also the climate is mostly mild here and tranforms the plants especially in spring to wonderful blooming flowers (almond blossom). Furthermore families can experience a nature experience full of variety because of a leisure and relaxation area called Chanajija.
Tip: Also visit one of the existing hiking paths like along the volcanic steep coast in the dirrection of Puerto de la Cruz (about one hour of walking) or the hiking path to Tigaiga (about half an hour). In Los Realejos there are a lot of different wander routes for you as a holiday guest. The landscape is additionally full of banana plantations and endemic flora.
Bars, restaurants and stores are furthermore found in Los Realejos sufficiently. A rental would nevertheless be an advantage, if you want to explore the Canary Island Tenerife. A public bus transport is also available.
Info: In Los Realejos there are districts (like Romantica 1 and 2), which are mostly inhabited by tourists or incurred residents.
The southern airport is located one hour of drive from Los Realejos.