Guamasa in the north of Tenerife - A nice place with beautiful houses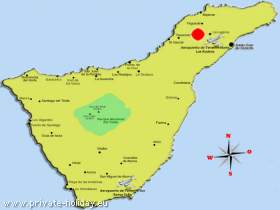 Distance
If you spend your holidays near the Anaga Mountains, but want to be a bit outside of the university city San Cristóbal de La Laguna (8 kilometres away) or the capital city Santa Cruz (ca. 17 kilometres away), then you should visit the little northern town Guamasa.
The landscape surrounding of Guamasa is in contrast to the meagre but more sunny south full of endemic green kinds of plants. In this fruitful rural region also the best and most famous grape vines of Tenerife grow. Because of that you should not miss the chance in your vacation to drive to a Bodega in Tacoronte once (8 kilometres away) and try the various vines from the local vine cultivation area Tacoronte-Acentejo.
In Guamasa itself in an individual vacation you live in a very large and cultivated finca, a holiday house or an apartment. Furthermore the bathing places Bajamar (ca. 12 kilometres away) or Punta de Hidalgo (ca. 15 kilometres away) are thanks to well builded streets reached very fastly. In the months of summer there are mostly locals at this volcanic black sandy beaches. Only in the main season in the winter (christmas) tourists of the most various nations are found here.
All of the important shops, supermarkets, restaurants and bars for individual vacationers exist in Guamasa. Nevertheless not only the bigger cities are reached in a few minutes of driving, but also an 18 - hole golf complex - Real Club de Golf de Tenerife (only 2 kilometres away). Also reachable with the public transport system. However, a rental car would be an advantage.
The southern airport is located in a 70 kilometres distance from Guamasa.