Aldea Blanca in the south of Tenerife - Find the best holiday houses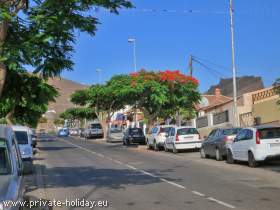 Distance
Located in the yearlong warm and sunny south of Tenerife and a part of the community San Miguel de Abona - that is the rural impressed village Aldea Blanca.
With its proximity to the southern airport (approx. ten driving minutes with the rental car) as well as to the tourism hotspots of the island Los Cristianos or Las Américas (roughly twenty minutes away) the town is optimally situated to spend a quiet and relaxing vacation in a natural environment and still not to relinquish the hustle and bustle of the party districts. Furthermore the town Aldea Blanca is connected to a well developed public transport network.
Two golf courses - Amarilla Golf and Golf del Sur (about 15 minutes driving time away) - are also located in a comfortable distance.
Beautiful and cultivated holiday flats and holiday houses are very popular in Aldea Blanca, especially for individual tourists. Diverse hiking tours all around the canary island are likewise (such as to San Miguel de Abona or to the Montaña Amarilla) easy to get to.